Applied Practice is revising its AP® English guides to reflect all aspects of test design so students get the fair and equal learning experiences they deserve. As we know, not all Multiple Choice Questions are created the same. The AP® tests are built from a wide range of question types and difficulties. This range fairly assesses all skills and gives equal opportunity for all levels of students to show what they can do.
Join us as we discuss upcoming revisions to the Applied Practice library of resources. Attendees will receive a complimentary copy of the NEW AP® aligned edition of Applied Practice in Hamlet.
Presenter: Dr. Brandon Abdon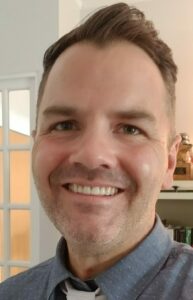 Dr. Brandon Abdon is a former English teacher who has been doing instructional design, school coaching, and professional development around the intersection of composition, literacy, literature, pedagogy, and technology for over a decade. Currently, he serves as a curriculum and assessment implementation coach in the Cincinnati Public Schools working with Savvas K-12 Learning Services. A fellow of the National Writing Project, Brandon believes in the power of writing daily in the classroom.  He also knows that all students have a path to literacy when engaged and challenged suitably.  He likes to read and play sports but does both of them slowly and only one of them well. He has been married to his brilliant wife, Angela, since 2008 and has two sons, Hilton and Dorian.
He has consulted for or served in some capacity with a number of organizations, including the National Council of Teachers of English, the National Writing Project, the Bluegrass Writing Project, the Kentucky Council of Teachers of English, the National Math-Science Initiative, and others.  In addition to consulting and professional development, he has been on staff with the College Board's Advanced Placement Program and Savvas K-12 Learning Services (Formerly Pearson K-12 Learning Services).  While at the College Board, he led the development of the current course and exam descriptions for both Advanced Placement English courses, including creation of course skills, revision of exam guidelines, and the development of analytical scoring.
Along with experience in an array of organizations, he holds advanced degrees in both English and Education - including a Doctorate in English Pedagogy - and certification as both a teacher and an administrator.  During his full-time work in high school classrooms, he was recognized with the National Council of Teachers of English "High School Teacher of Excellence" award in 2010.  He has also worked at the University of Kentucky and Georgia State University teaching courses including English Composition 1, Introduction to Literature, Literature for Teachers, Composition for Teachers, and others.
Tickets are not available as this event has passed.