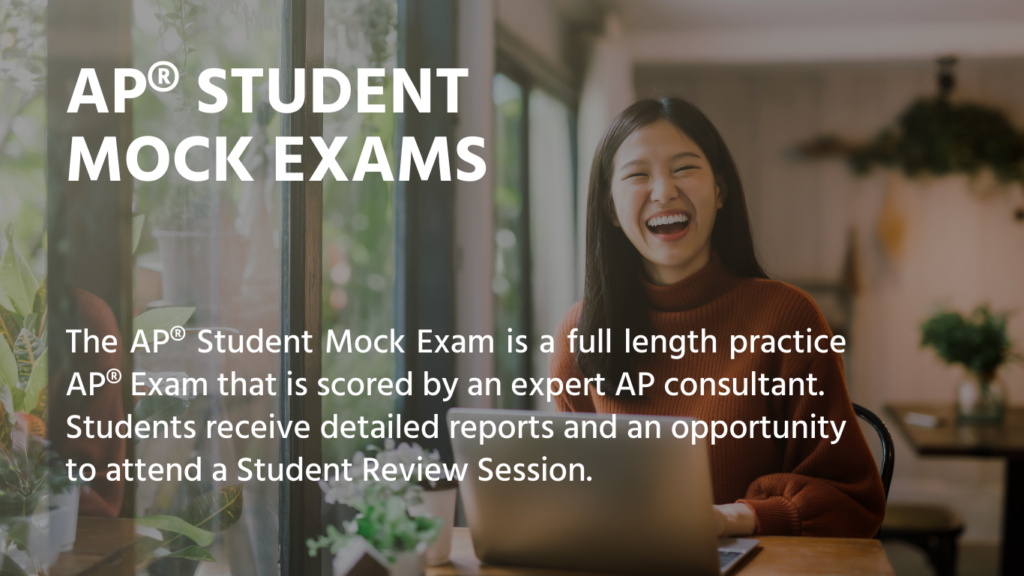 🔘The Student Mock Exam
The AP® Student Mock Exam is a full length practice exam which mimics the style, format and expectations of the actual AP® exam. Open response questions are evaluated by our expert educators using a set of prescribed standards. Multiple choice style questions are scored and analyzed using our nGaugeTM scoring platform, and detailed reports are delivered directly to students so they can better prepare for the exam.
🔘Available Courses
The AP® Student Mock Exam is currently available for English Language, English Literature, Calculus AB, and U.S. History.
🔘The Cost
Applied Practice Student Mock Exams for English Language and English Literature are $12.00 per each exam.
Applied Practice Student Mock Exams for Calculus AB and U.S. History are $15.00 per each exam.
🔘The Details
How do I access the Mock Exam?
The exam is offered through the Applied Practice nGauge™ Assessment Scoring System. To access the system, follow the exam instructions sent via email.
When should I take the Mock Exam?
Access to the Mock Exam is given within 24 hours of purchase. In order to ensure your exam will be scored in a timely manner, the Mock Exam must be completed by April 7th, 2023.
How long is the Mock Exam?
The Mock Exam is the same length and format as the actual AP® Exam. Just like the AP® Exam, the Mock Exam is timed.
Is the Mock Exam online?
Yes. When you start the Mock Exam a window will pop up with the exam questions as well as an electronic bubble sheet for the Multiple Choice section or a submission form for the Free Response section of the exam.
When do I get my scores?
Scores will be emailed within two weeks of submission. Be sure to add info@appliedpractice.com to your safe senders list.
Do you share my scores with my teacher?
No. Results from Student Mock Exams are only shared with the email on record at the time of purchase.
My teacher gave an Applied Practice Mock Exam in class. Is the Student Mock Exam a different exam?
Yes, the exam questions are different. But if you have any concerns, feel free to contact info@appliedpractice.com.
🔘Student Review Sessions
Students who purchase the Mock Exam PRIOR to April 1, 2023 will receive a Zoom link to attend a Student Review Session with an expert AP Consultant. Student Review Sessions will be held on the following dates and times.
In the Review Sessions students will review their Mock Exam results and review best practices and strategies for success on the AP exam in May.
Note: Participation in Student Review Sessions is optional, but sessions will not be recorded.
🔘What You Need
🔘Questions? Or Need Technical Assistance?
Contact us at info@appliedpractice.com.
🔘Ready to Purchase?
Click the button below to create your account and purchase exams. Information will be emailed within 24 hours of purchase.✌🤩