Master Classes in Writing
The Master Classes: Writing Lessons from Great Authors series is based on the premise that teachers and students can find no better examples of excellence in writing than those provided by the literature they are studying. In each lesson, "master examples" drawn from literary masterpieces are used to guide students in developing writing skills. The names of the four volumes were inspired by the guild system of medieval times, emphasizing that writing is indeed a craft.
Each volume includes:
12 lessons, each with

a teaching segment over a particular writing skill, such as "Hooks" (Apprentice, Lesson 1) or "Juxtaposition" (Journeyman, Lesson 4)
3 examples of this skill from Master Writers, such as Dickens, Twain, Steinbeck, Shelley, and many others
Practice Assignment – an activity or worksheet requiring students to practice using the skill
Essay Assignment – instructions for analyzing, writing, and/or editing their own or an existing essay, with attention paid to the lesson's particular skill

Suggested responses to the lesson activities
6 additional activities requiring students to conduct analysis of a recent classroom reading or writing assignment and practice skills
An index of authors and literary titles used as examples in these lessons
Lesson-by-lesson correlations to standard writing objectives.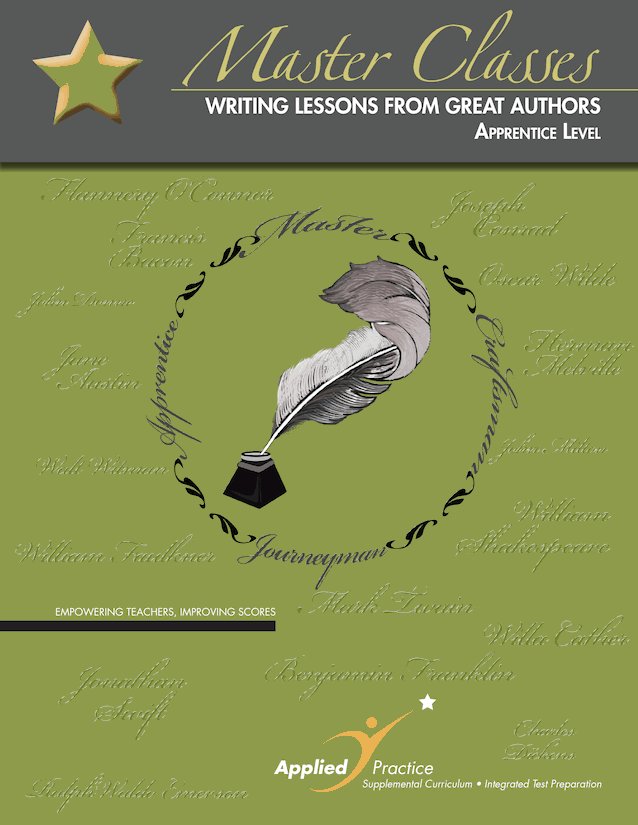 Showing all 5 results